DO YOU WANT TO BUILD A BETTER SOCIETY ASTRO-"TOURISTING"? ANOTE: ECG


ECG means Economy of the Common Good

And they have certified ASTROTOURISTING because of practices already carried out in this line and the improvement plans that have arisen from self-assessment from their point of view. It is progressive and in addition to providing evidence of what we do we punctuate the members of the group in the area mutually. Energy fields are called, working groups in operation, but it is nothing esoteric but refers to the human energy that makes this orientation possible. And we know about renewable energy, right? …
ANOTHER ECONOMY IS POSSIBLE …

Because perhaps the first question would be: what is Economy? And if we respond to the conventional definition of "system of production, distribution, trade, and consumption of goods and services of a society or of a country" perhaps the following should be, and why should we specify that it be for the common good? Well, because the social inequalities that economic activity can generate (structural unemployment, exploitation, …), as well as its externalities or negative consequences (pollution, health problems, …) do not look for protect everyone but often respond to individual and individualistic interests. Because you can be individual but have global or group con(s)cience and work in synergies without the intention of accumulating on the basis of domination, extracting without limit, underestimating, … What satisfaction can that bring? The satisfaction, the dignified survival, the realization of the whole seems a more human option … and maybe the only option that saves the Earth and this species, among many others, do not forget it, but that it is the only one that we inhabit the planet making it uninhabitable …

WHAT THE ECONOMY OF THE COMMON GOOD CONTRIBUTES

Well look, beyond what may seem is not communism or any utopia. It is about playing the same game but with different rules.

Strive to pay fair prices and wages, carry out marketing that is not aggressive and invasive -do we do it? Correct us!-, of course, offer and demand products and or services that do not generate impact (or the minimum possible) to the so-called environment and the people included in it, opt for ethical finance (nothing of purely speculative economy but real economy), generate trusting and sustainable relationships over time with customers and suppliers, be consistent and carry out these measures not only in the professional field and encourage them in it, but also in personal life, contribute to solidarity actions related to the sector, ultimately be better citizens, professional, person. DIVULGACTIVE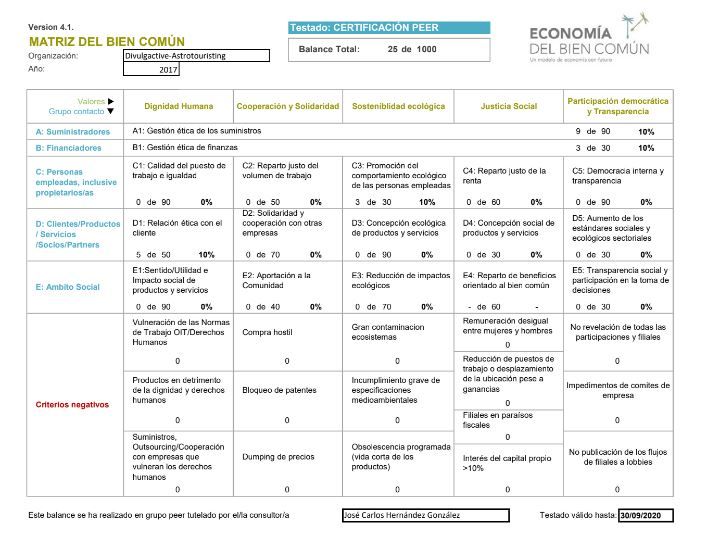 View of the result of the balance in Spanish language. For now 2% that could be demonstrated with tests. The goal is to improve.

OPT FOR ETHICAL FINANCE

OFFER AND DEMAND PRODUCTS AND/OR SERVICES THAT DO NOT GENERATE IMPACT

It is and will be a hard compromise, in which the market decides, and in which we expect you are aware that your purchase is a vote. In this case to improve society while you consume. CON-SUMMATION. Add positively through your consumption.

Learn more about the Economy of the Common Good: more details of what it implies, your networks closer to you, here.
We trust that we extend it astro-"touristing" …
#morethanCSR
#thereisnoplanetB
----
(November 2021 update) New label "travel sustainable" .... It seems that something has been learned with the COVID-19 pandemic.